I have no illusions that this post will resonate with a vast majority of readers. Just as well as I know that 80% of you probably wouldn't  make this dish even as a last resort. These revelations come to me due in a very large part to the fact that I picked up 6 (that's six) 2 pound packages of Ox Tail ( at an amazing $2.95 a package) from the market this week because they were in the burn-out bin – meaning… no one wanted to buy them.
In a way, I get it. It isn't a particularly attractive cut of meat. It can be an extremely tough cut to do something with, it's mostly bone, and you can't throw it on a grill. It takes time, effort and more that a squoosh of love to coax the delectable flavors out of the oxen's swishing business end. But invest the time and effort and you have something truly worth eating.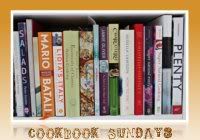 This week's cookbook of choice is (drum-roll, please)
Beef and Veal
from the
The Good Cook Series
Time / Life Books, 1979
Yes..Yes… I know, it's a compendium of recipes derived from a plethora of sources and other cookbooks. But the Good Cook series is one of my most used resources. Edited collections, such as this, allow you to expand your own collection of recipes, techniques, and styles without having to invest in a separate volume every time you want to delve into something unknown. As for The Good Cook – the recipes are classic preparations that have been dissected, restructured so they make sense to a more contemporary cook, and each volume is dedicated to a specific main ingredient.
Today's recipe, La Terrine a l'Ancienne, is quite simply an Old Fashioned Oxtail Stew. It is originally from Edouard Nignon's, "Pleasures of the Table."
As with most things I cook, I have had to make some alterations to the original recipe:
The butter is replaced with an equal amount of olive oil plus a teaspoon of white miso paste added to each measure. (As you may remember, I cook for a hugely lactose intolerant client. With that, butter simply isn't an option. In order to add back some of the depth and roundness that butter imparts, I elected to sub in the miso paste.)
The salt pork has been replaced with a cured – but not smoked bacon, because the amount of lardons in the recipe seems overly aggressive.
I've replaced the bouquet garni with minced herbs. I just felt the braising and the dense structure of the oxtail would benefit from deeper seasonings.
And lastly, I've cut the recipe in half. Even though I now have a stockpile of oxtail in the freezer – oxtail isn't sold in "Full-Tail" packages. You only get a half tail… so I adjusted the amounts accordingly. (Even with the halved recipe, the oxtail is incredibly rich and the dish will still serve 4 to 6 generously.)
La Terrine a l'Ancienne
(Oxtail Stew)
Serves 4 to 6
Ingredients
1 – 2.5 Pound Package Oxtail
1 Large Carrot – Cut into 3″ pieces
2 Large Onions – Peeled and Quartered
1 Teaspoon Thyme – Minced
1 Teaspoon Rosemary – Minced
1 Tablespoon Parsley – Minced
2 Bay Leaves
8 Tablespoons Olive Oil, plus 8 Teaspoons Miso Paste (if you'd rather use butter, just use the oil measure of butter and omit the miso)
1/2 Cup Brandy
2 Cloves Garlic – Crushed
1/2 Cup Flour
3/4 Liter Full Bodied Red Wine
1 Cup Beef Stock
8 Ounces Slab Bacon – Cut into Lardons (1/4″ x 1/4″ strips about 3″ long)
1 Pound Mushrooms
Salt and Pepper to Taste
Dutch Oven
Medium Saute Pan
Medium Sauce Pan
Tongs
Heavy Tin Foil
Preheat the oven to 325
In the dutch oven with 1/2 the oil, brown the oxtail, herbs, onions, and carrots over medium high heat. This part will take about 10 minutes
Add the brandy and flame
When the flames die down, add the garlic and flour, and mix well
Add the wine and stock – mixing well, and bring to a boil
Cover and place in the oven
Cook for 2 hours.
In the meantime – Place the bacon and enough water to cover in the sauce pan and boil for 10 minutes – remove and allow to cool to touch
Cut the bacon into lardons (1/2″ x 1/2″ x 3″ strips) and place the bacon, the remaining oil and miso, and mushrooms and simmer until lightly browned
Remove the dutch oven and lift out the  oxtail pieces
Preheat the oven to 350
Strain out the juices and discard the vegetables and herbs
Place the liquid back into the dutch oven and over medium heat, reduce the liquid to 1/2
Add the oxtail pieces back to the pot along with the sauteed mushrooms and lardon
Seal with a sheet of tin foil and crimp around the edges – you want to make a moisture tight seal and replace the lid. (Traditionally, this would be done with a flour / water paste, but since the dutch oven has no inset lid, this will have to do.)
Cook for an additional 2 hours
Serve very hot from the dutch oven with a side of fresh steamed rice and root vegetables.
(the recipe actually suggests serving the  stew with Spaghetti au Gratin – but I think that's just way to heavy.)
114total visits,2visits today