I'm a firm believer that if it had not been for Southern Living magazines and cookbooks, the dinner party never would have existed in the South. Oh, we cooked.. we literally drug our collective titties through it – but the concept of the dinner party would have been relegated to those of finer standing in the community… with "help".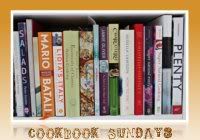 Southern Living came to life in 1966. They wrote of events, houses, decorating ideas – and to the adoration of housewives across the deep south – about food and entertaining. Even today, they are the most successful regional magazine in the country. Each month the pages would be packed with themed dinners, sweets, and quick meal ideas. Our fine Southern women (Jane, included) ate it up. Beginning in 1979, Southern Living began publishing collections of the recipes in volumes, as well as other cookbooks expanding on the dinner event themes.
Southern Living
Dinner & Supper Cookbook
Jean Wickstrom – 1979
I love this book. It wraps my entire childhood between 292 pages. It's quirky.. it's terribly dated.. it has absolutely no concern for cholesterol or heart disease. It is about the event… the dinner.
And – It has complete menus for every main dish… Meat and 3 Veg kind of menus.
When I pulled the book off the shelf this past week – I knew exactly what I was going to make. I ate 3 different versions of it as a child…. I gorged on it in Savannah…. I bullied 2 different restaurants in Yankee land because they had no concept of what it actually was. Believe me – trying to explain fried chicken curry to an uncooperative chef is just about the most difficult thing you can do.
According to Wiki (and you know how they are always right…) accolades for Country Captain go to Alessandro Filipini of Delmonico's (Philadelphia) in 1857.  I beg to differ. Somewhere in my collection is an 1823 cookbook from Savannah that has the recipe. Which is why you'll generally find it served all over the Deep South, and particularly in Savannah and Charleston.
So – Country Captain. It is what I said ..up there… it is chicken fried in butter or lard, topped with an onion / tomato curry sauce and stewed in the oven. Typically you'll find it topped with currants, golden raisins and slivered almonds. It is stew-y, sweet, aromatic to the max goodness.
Did I mention it has fried chicken in it?
Okay – the alterations:

1). To me, Country Captain works best with dark meat – so I've stuck strictly to using thighs. They are also a little easier to deal with knowing that one cut of meat will cook basically at the same time. Also – since we're frying it, I like the skin on. It's the way I've always eaten it, and besides … it just adds to the flavor.

2). No Almonds – allergies in the family make this a no-go, so I've substituted Pistachios (which I actually liked better)

3). Green Pepper – I'm not a huge fan of cooked green pepper… (I know, I know) so they have been replaced with the Dulcetta Peppers I bought the other week.

4). Heart – I've cut the shortening out and replaced it with 1/2 Cup Oil. The lesser amount was plenty to do the work with. The salt has also been reduced from 1 1/2 Teaspoons to 1/2 Teaspoon
The Recipe
Country Captain
From Southern Living
 Dinner and Supper Cookbook – 1979
Serves 6 to 8
Ingredients
3 to 4 Pounds of Chicken Thighs – Bone in – Skin on
AP Flour
Salt and Pepper to Taste
1/2 Cup Oil
2 Onions – Finely Chopped
1 1/2 Cups Sweet Mini Peppers – Finely Chopped
1 Clove Garlic – Minced
1/2 Teaspoon Salt
1/2 Teaspoon White Pepper
3 Teaspoons Curry Powder
2 16 Ounce Cans Petite Diced Tomatoes – Do not drain
1 Teaspoon Chopped Parsley
1/2 Teaspoon Dried Thyme
1/3 Cup Dried Currants
1/2 Cup Pistachios – Crushed
8 Servings Steamed Rice
Additional Parsley for Garnish
Large Skillet
Paper towels for draining
4 Qt Dutch Oven or Covered Casserole
Tongs
Assorted Spoons
Preheat the oven to 350
Pat the thighs dry and liberally season with salt and pepper
Heat the oil in the skillet over medium high heat
Dredge the thighs in flour and brown on all sides in the oil – set aside to drain
Retain the oil and add the onions, peppers and garlic
Reduce the heat to medium low and cook (stirring constantly) until the vegetables are tender
Add the salt, pepper, curry powder, thyme and parsley – cook until everything is aromatic
Add the tomatoes and currants; stir well to mix
Place the chicken in the dutch oven and pour the sauce over the pieces. If the sauce does not cover the chicken – add water until it just submerges the  protein
Cover and bake at 350 for 30 minutes
Remove the lid and cook another 15 minutes uncovered
In the meantime – Steam the rice
When the chicken is done, place the chicken in the center of a large platter and pile the rice around it
Spoon the sauce over the rice and top with the remaining parsley and crushed pistachios
As this is a Cookbook Sunday entry – click the big linky pic at the top and head over to Couscous and Consciousness and see all the other entries.
Happy Eating! – Toby